Be Agile
Product Ownership
Product's Triforce : 3 powers for the best product
Creating a new product or improving one is the matter of different competencies which are today quite hard to define according to the contexte you are actually in. Let's try to define these competencies as powers that one or more people can use, or not.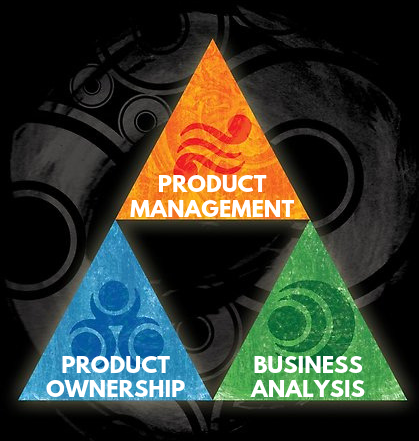 To build the best product you have ever made, you can use up to 3 different powers, according to your needs.
1st Power : Product Management

The Product Management power will allow you to define the strategy of your product.
It will bring you a clear vision about the product's purpose, its targets, its business goals.
When it's used, you will benefit from a perfect adequation with the market's needs and an easy-to-understand overview of why and for who the product is made for.
You will be able to see what it did exactly thanks to Business Plans, Lean Canvas, a clear vision, and adaptative roadmaps, for example.
Generally, the persons who will succeed in using this power are marketing and/or sales oriented persons because they want to have a product with the biggest impact for its users and won't accept that another product could be assimiled as a prefered alternative.
2nd Power : Product Ownership
The Product Ownership power brings to the development team the product's vision and make sense to everything this team do.
It will make the development team able to work in the better conditions ever, by a well organized and prioritized backlog management. Every value proposition will be handled to be fully understood by the team.
While using it, you will see highly motivated team, a shared vision, shorter increments which can fastly be tested with no extra-feature which doesn't drive to the product's success.
The measurable effects are like Backlogs, well-written value propositions, discussions with the team members and metrics of product's health.
Chameleon-like persons are getting the better of this power. They are able to understand as a big picture any subject to be able to transfer this sufficient knowledge for specific needs of the development team. They are also well organized and know how to adapt themselves and what they are responsible of quickly. You will quite never see them alone as they are the best communicants you could ever see. We also heard that when this power is combined with an IT Background, it becomes again a little more powerful.
3rd Power : Business Analysis

The Business Analysis is a power to use only if there are specific business impacted. In that case, it will bring you the ability to understand deeply how your product will change the behaviour of every impacted business line.
It helps when the product will act on really specific matters and only a subject expert can explain it. But much often, we think we will have to use it, but effectively, the business is hard to understand, but the part which is needed to build the product is far lighter. So use it with precaution.
This will unlock any secret on complex subjects, a highly used product which take all business constraints, and the assurance of a well furnished backlog.
These results are generally set as BPMN (Business Process Modeling and Notation), MindMaps, Notes of Interviews.
As a precious power, it has to be summoned ideally by persons issued from the business lines they have to analyze. But as for the Product Ownership power, it can belong to curious and really fast-adaptative and fast-understanding persons on not too much complicated subjects.
4th Hidden Power : User eXperience
It's a power that you can use at anytime, anywhere in the building of your product, but it contains bigger secrets which have to be revealed on another post…
And you, what power do you use ? And which one you absolutely want to use now ?
Need some help with your product? miss some competences?