Agile Partner gives autonomy to its employees by creating an environment to develop their expertise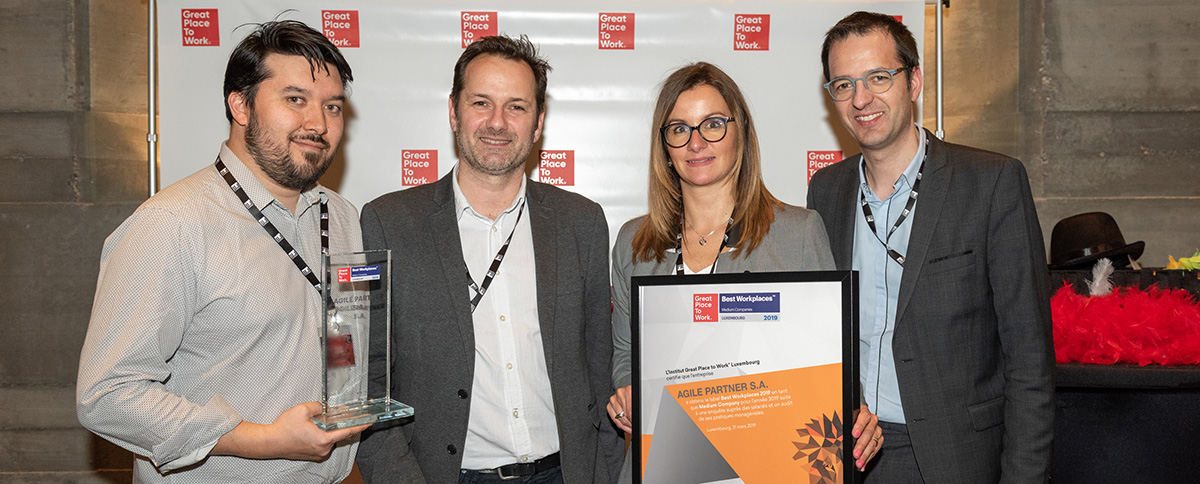 "According to research, 30% of people are bored at work. Workers who declare they are happy at work are 2 times less sick than other workers, 6 times less absent, 9 times more loyal, 55% more creative and 31% more productive". These are the words of Christelle Brignoli, Managing Director of the Great Place to Work® Luxembourg Institute, who opened the Great Place to Work for All 2019 awards ceremony, whose theme was "Commitment to Work."
Agile Partner accompanies organisations in their agile and digital transformation while ensuring that they develop their individual skills and motivate their teams so that everyone feels good and gives the best of himself. Agile Partner was voted Best Workplace Luxembourg in the Medium Companies category (50-99 employees) this year.
We met Grégory Nguyen (Agile Coach, Servant Team Leader, Trainer and Facilitator), Sylvain Chery (Co-founder and Director, Agile Coach), Louis Tinant (Consultant / Scrum Master), Franck Chalaux (Chief Operating Officer ), Cyril Conter (Project Manager and Senior Consultant) and Véronique Olive (Product Owner), to understand better why Agile Partner is such a great place to work!
For them, several aspects make Agile Partner a "Great Place to Work". It is a company that trusts its employees, encourages initiative and gives the right to make mistakes. Everyone is free and autonomous within the company. For Sylvain, co-founder of Agile Partner since 15 years, it's a bit like "a garden in which managers are gardeners". Véronique emphasises that it is a work environment in which everyone feels respected and "free to evolve at their own pace". In the company for 10 years, she explains "I try to listen to my colleagues, to help as they could help me." Everyone is available, ready to listen and give impulses", explains Sylvain," agility is in our DNA and its values ​​and principles guide our daily lives ".
Agile Partner maintains a warm and friendly atmosphere by promoting interactions and informal collaborations around recreational spaces (with various instruments and game consoles, including a "PS4 Pro" precise Grégory!) And through specific events that allow "to to find and share moments", as Cyril says.
Agile Partner promotes creativity and encourages the development of skills within the group, giving its employees opportunities to learn, express themselves, share ideas. Franck, at Agile Partner for 9 years, explains "each of our employees is brought to develop his skills, his autonomy and to find a meaning to his work". For Louis, who has been working there for a year and a half "it's a great place for all those who want to learn, the curiosity to take an interest in the unknown and a desire to focus on the company".
Sylvain, Louis and Grégory claim never to have encountered such a working environment in other companies. If you also share these values, do not hesitate to consult the list of positions open to recruitment.